The Piobaireachd Society Gold Medal (Canada) and Bar to the Medal contests for 2019 are be held on Friday, August 2nd and thanks to sponsorship from the Clan Donald Lands Trust will have a first prize of £1,800 ($3,000CDN).
This represents a considerable upgrade in the contest which was started by back in the 1970s by Archie Cairns with the assistance of Captain John MacLellan representing the Piobaireachd Society. Adjudicator for both events will be Bob Worrall but the organisers plan to expand the bench with additional adjudicators.
Robert S. Wilson, Director, Glengarry Highland Games and Chair, Piobaireachd Society Gold Medal (Canada) Committee, has announced:
'I have assumed the position of Chair of the events for 2019 and John Cameron (Jack) Yourt has taken over as Vice-Chair to assist me in the transition. Retiring in 2018 was our long serving senior steward, Doug Heyland. Jack and Doug have presided over the Piobaireachd Society Gold Medal (Canada) since 1995 when it was moved to the Glengarry Highland Games.
' Jack is a Past President of the Glengarry Highland Games and in addition to providing the Gold Medal events with his experience and wisdom, he continues to garner support from the greater Glengarry Highland Games executive.
'Jack and Doug have been unsung heroes in their support of piobaireachd, and former and future players owe them a debt of gratitude for what they have done over the years to preserve and further our noble art.
'I am shown below with Jack in the centre, and Doug on the right, accepting the transition.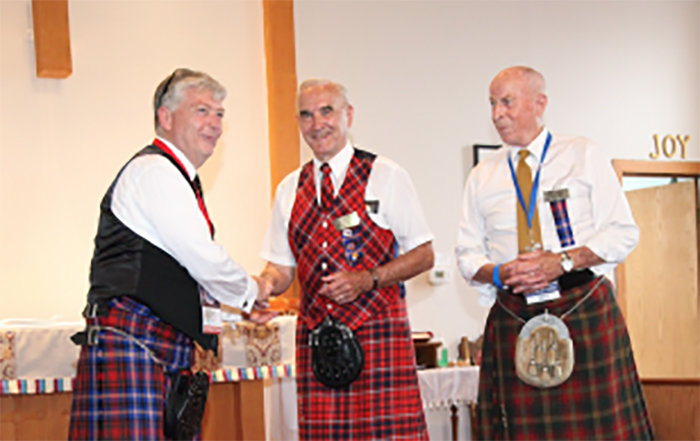 'In recognition of the relative popularity of tunes on the Piobaireachd Society set tune list for the 2019 Gold Medal Competitions, the set tunes requirements for the Piobaireachd Society Gold Medal (Canada) 2019 event have been fully aligned with Oban and Inverness.
'We expect that we will continue this structure going forward. Entries to the Piobaireachd Society Gold Medal (Canada) 2019 event will be further prioritised based on PPBSO or CPA ratings. We expect between 10 and 15 competitors in 2019.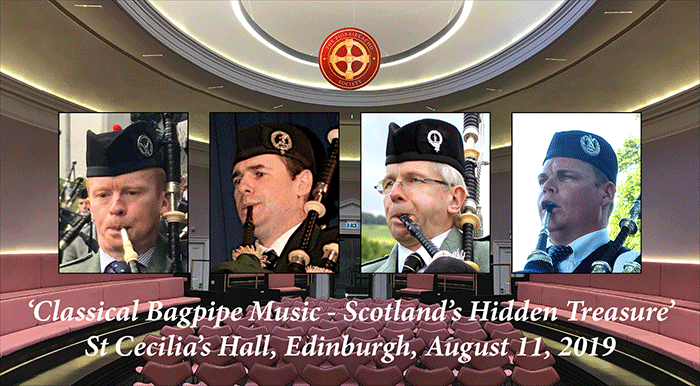 'The Piobaireachd Society Gold Medal (Canada) event has been greatly expanded. First place will now be $3,000 CDN and in addition to the Gold Bar, will include the Clan Donald Land Trust commemorative targe. We believe that this is now one of the most valuable single cash prizes in solo piping.
'Tune requirements for the Bar will be exclusively from The Piobaireachd Society 2019 list for the Senior Competitions, and we expect to continue this format going forward as well.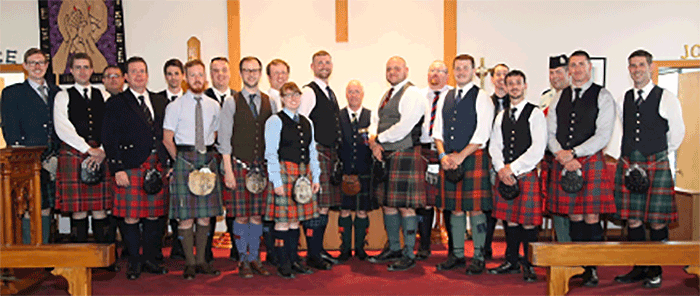 'Entries will be limited to Former Winners of the Piobaireachd Society Gold Medal (Canada), as well as former winners of the Highland Society of London Gold Medals at Oban or Inverness. With the additional prize money, we anticipate a few more eligible contestants from western Canada and overseas.
'On behalf of the Committee, and the Glengarry Highland Games, I thank The Piobaireachd Society for their continued association with our important events.'